Very High Pressure Guage with Safety Pattern
The Budenberg models 964GP and 564GP have been designed for use on high pressure applications such as hydraulic power packs and pressure testing equipment.
They are also suitable for pressure measurements on hydraulic metal forming, sintering, and autofrettage chemical processes.
The models 964GP and 564GP meet the American Petroleum Institute Specification 14.D.
All models are of Safety Pattern construction.
contact us for pricing and availability of the Budenberg 964GP & 564GP Pressure Gauge.
The Budenberg 964GP & 564GP Pressure Gauge is suitable for the following applications / industries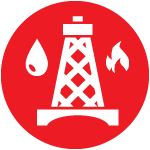 Budenberg 964GP/564GP Specifications
Size

964GP 150mm (6")

564GP 250mm (10")

Mounting

Case & Bezel

150mm Models have 316 Stainless Steel Cases and Bezels

250mm Models have Aluminium Cases and St Steel Bezels

Scale Ranges

0 to 1600 Bar up to 4000 Bar or equivalent units

Standard Ranges as per EN837-1.

Pressure Element

316 Stainless Steel Coil & Socket

Pressure Connection

Direct Mounting : 1/2"BSP with a length of 32mm (1.25") with a flat endface and 3mm(0.125") inlet to accommodate a small hardened Stainless Steel coned joint ring.

Other connections are available upon request.

Accuracy Class

CL:1 1.0% of FSD as defined in EN837-1

Option: 0.5% of FSD as defined in EN837-1

Temperature

Storage: -40 up to +100 ºC

Options: for lower or higher operating temperatures

Temperature Effect

Variation in indication caused by temperature shall not exceed

+

0.04 x (t2 - t1)% of the span where:

t1 is the reference ambient temperature in degrees celsius

t2 is the ambient temperature in degrees celsius

Environmental

IP65 as defined in EN 60 529

Certification &

Traceability

Individually calibrated with a unique serial number printed on the dial.

Certificate of Conformity traceable to National Standards is supplied

Available Certification: BS EN 10204 3.1B Material Certification

Point to Point Test Certificate

All instruments are individually calibrated and have a unique Serial Number printed on the dial.

Safety

All units are manufactured to comply with EN837-1, S3 Specification and other regulatory standards including PED.
Classic 964/564 Series Dial Specifications
Size

964GP 150mm (6")

564GP 250mm (10")

Dial

White Anodised Aluminium marked in black finish

Pointer

Stainless steel coloured black

Options: Micrometer adjustable pointer

Movement

Stainless steel construction

Options: Viscous damped movement to overcome the effects of minor pressure pulsations

Window

3mm Laminated Safety Glass (standard)

Option: Acrylic Plastic Window
964 / 654 Pressure Gauge Specification Sheet Download
To view all the information on the Budenberg 964GP & 654GP Pressure Gauges you can download the data sheet here