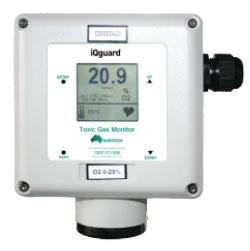 Gas Detectors for - Toxic gases, Oxygen Depletion & Flame Detection
The Austech iQguard series of gas detectors provide a high performance solution for a wide variety of industrial gas detection applications. It provides accurate, stable and repeatable gas detection measurements across a wide range of gas types.
contact us us for more information about the Austech iQguard or you can download a free pdf below.
Featuring:
Display or non-display models

Wide range of gas types

Stainless or moulded PVC enclosures

Swappable detector heads

Flexible configuration

Built-in relays

Modbus communications

Optional ethernet communications

Build in EMC RFI protection compliant to BS EN 50270

SIL2 compliant

Intrinsically Safe version available for Group II hazardous areas

Intrinsically Safe version Certification Ex ia IIC T4 Ga

IECEx certified

ATEX certified