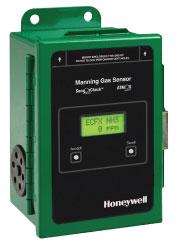 The Manning by Honeywell EC-FX ammonia gas detector offers tough sensors that will work in three harsh environments. The rugged, longer lasting ammonia sensor are ideal for commercial buildings and other industrial applications, with stability you can count and low cost, the EC-FX-NH3 is the new gold standard in ammonia detection.
Featuring:
Quick reponse to ammonia concentrations in low parts per million (PPM)

Rugged construction for long-term reliability

ATMOSTM Technology for environmental flexibility

Stainless Steel enclosure with LCD options

New ammonia sensor with a proprietary electrolyte

3 year warrant

y
The Ammonia sensor/transmitter has been designed for use in industrial refrigeration applications.
The EC-FX-NH3 can provide a linear 4/20 mA or Modbus RS-485 signal input into PLC's or SCADA systems and can also be used with Honeywell controllers to create a complete gas detection system that includes visual/audible notification and relay outputs to activate ventilation.
contact us for more information about the EC-FX-NH3 Gas Detector by Honeywell
High Range Sensor Specifications