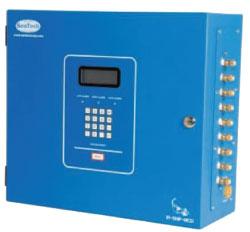 Multiple Channel Refrigerant Loss Monitors
The Environmental System IR-SNIF Multiple Channel Detection (MCD) monitors by SenTech are "Early Warning" loss detection monitoring systems designed specifically for refrigerants.
The IR-SNIF-MCD models are cost effective, self-contained active air-draw sampling systems that offer highly reliable Infrared based performance with the flexibility to satisfy a wide range of continuous monitoring applications. SenTech's monitors utilise NDIR (Non-dispersive infrared) and pyroelectric (absorptive sensing) technology featuring multi-zone detection point capability from a single field-programmable selfcontained metal enclosure that features SenTech's unique built-in leak wait period that minimises nuisance false alarms.
SenTech's IR-SNIF-MCD multiple channel architecture combines Infrared detection of refrigerants available in single, four, eight and sixteen zone models with remote sensing capabilities for other gasses. With the featured Infrared technology, each zone is capable of monitoring and responding to any one of 22 refrigerants from a standard library via keypad entry at concentration levels as low as one part per million (PPM).
A unique four remote transmitter configuration allows the IR-SNIF-MCD to be a combined gas monitor that senses refrigerants AND any additional gases by remote sensors, such as Ammonia, Carbon Monoxide, Carbon Dioxide, Hydrogen, Oxygen and more. SenTech's IR-SNIF-MCD monitors also provide compliance with ASHRAE Standard 15.