Watertight Pressure Gauge for underground cables
The Budenberg model 510 is a watertight HV cable Gauge that is suitable for when continual operation in remote, severe environments is required where robustness, coupled with repeatability are paramount.
The model 510 has been designed to meet many International and regulatory standards including ESI 50-1, that requires the gauges to be fully immersible under water and are Type Tested to industry standard NGTS 3.5.9 Issue 2*.
The 510 units can be supplied fitted with up to three electrical contacts whose operation can be independently defined and adjusted by use of a removable key. Electrical connections are taken via a three metre PVC insulated and sheathed cable from the side of the case, the wires are colour coded for ease of installation.
* Certification available upon request
contact us for pricing and availability of the Budenberg 510 Pressure Gauge.
The Budenberg 510 Pressure Gauge is suitable for the following applications / industries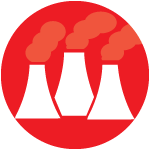 Budenberg 510 Specifications
Size

150mm (6")

Mounting

Case & Bezel

Grey Cast Iron, grey polyester powder coated, with black flange

Scale Ranges

0 to 1 Bar up to 0 to 25 Bar

Dual Scale units or custom scales can be provided

Pressure Element

Pressure Connection

Piercing needle inside rubber ferrule

Overload

Units will withstand overload pressure up to 130% FSD.

Electrical Contacts

Available with independent single, double or triple contacts

Accuracy Class

CL:1 1.0% of FSD as defined in EN837-1. NGTS 3.5.9 Issue 2* Type Tested

Temperature Effect

Variation in indication caused by temperature shall not exceed

+

0.04 x (t2 - t1)% of the span where:

t1 is the reference ambient temperature in degrees celsius

t2 is the ambient temperature in degrees celsius

Environmental

IP68 as defined in EN 60 529

Certification &

Traceability

Individually calibrated with a unique serial number printed on the dial.

Certificate of Conformity traceable to National Standards is supplied

Available Certification: BS EN 10204 3.1B Material Certification

Point to Point Test Certificate

All instruments are individually calibrated and have a unique Serial Number printed on the dial.

Safety

All units are manufactured to comply with EN837-1, S3 Specification and other regulatory standards including PED.
Classic 510 Series Dial Specifications
Size

150mm (6")

Dial

White Anodised Aluminium with black scales

Option: Dual Scales or special dial markings are available

Pointer

Movement

Window
510 Pressure Gauge Specification Sheet Download
To view all the information on the Budenberg 510 Pressure Gauge you can download the data sheet here