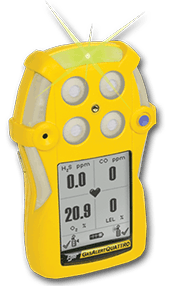 The GasAlertQuattro from Honeywell BW™ is a rugged and reliable four-gas detector that combines a comprehensive range of features with simple one-button operation.
Multi gas detector for H2S / CO / O2 / LEL with a choice of lithium ion battery or alkaline battery pack delivering long runtime and reliability. The graphic LCD displays easy to identify icons that indicate operational information, such as bump test and calibration status for simplified onsite auditing. The IntelliFlash provides continuous visual confirmation of detector operation and compliance.
The Quattro is suited to a wide range of industrial applications including confined space entry..

Featuring:
Compact & lightweight

Easy to use with one button operation

MicroDock II compatible

Interchangeable batthery pack or alkaline pack

Comprehensive datalogging and event logging capacity

CO & H2S sensor have enhanced resistance to common industrial cross sensitive gases such as methanol & ethanol
contact us for more information about the Gas Alert Quattro