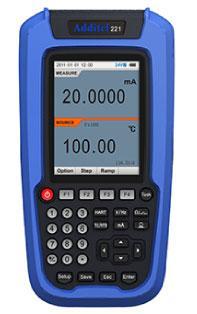 Additel's 221A is a very unique multifunction temperature calibrator. Not only does it provide you with the ability to source, simulate and measure temperature and electrical functions but it also incorporates full documenting capability and many other solutions that other products do not provide.
As a standalone device, you can create tasks, run tests and store the results. With the use of Additel Land Software or the Additel Cal software, all saved tasks and data can be downloaded and managed.
It's unique internal cold junction compensation sensor, cold junction compensation is very simple and easy
Featuring:
Sourcing, simulating and measuring pressure, temperature and electrical signals

Smartphone-like menu and interface make the operation simpler

The internal cold junction compensation sensor can be re-calibrated at ice point by user

Ultra-compact, 3.9" x 7.6" x 2.0", and 1.6 lb (0.7 kg)
Sourcing, simulating and measuring temperature and electrical signals
Sources and measures mV, mA, ohms, RTDs, thermocouples, frequency, and pulses
Simulates and measures 13 thermocouples and 11
RTDs to calibrate transmitters
Measures and sources pressure using Additel 160A
series Intelligent Digital Pressure Modules from -15 psi
to 10,000 psi (-1 bar to 700 bar)
24V loop power supply
Simultaneous dual reading capability
Automatic switch test
Supports square root transmitter
Pulse frequency output for the calibration of flow totalizer

Easy to use
Smartphone-like menu and interface make the operation simpler and easier
Ultra-compact, size 3.9" x 7.6" x 2.0" (100mm x 192mm
x 52mm), and weight 1.6 lb (0.7 kg)
One hand operation
Calibrated cold junction compensation (Patented)
Cold junction equivalent block in the calibrator. A calibrated PRT element with flexible leads is installed in the equivalent block for thermocouple cold junction compensation. This PRT element can be pulled out from the calibrator and re-calibrated and corrected at ice point by users.
Documenting and automated procedure capability
Manage the information of the device under test.
Set up automated calibration procedures, and 223A performs the test, calculates the errors, displays and/or stores the results in the memory, and highlights the out-of-tolerance points.
As-found and As-left functions allow recording and documenting results for quality control.
Download tasks and upload the results.
Snapshots allow you to capture and save work
NIST Traceable Cable with Data
Built-in temperature readout
CVD coefficients of a calibrated PRT can be input into the calibrator for accurate temperature measurement.
English, German, French, Italian, Spanish, Portuguese, Simplified Chinese (Traditional Chinese, Japanese and Russian are available per request)
Build-in unit conversion tool
Build-in converters for pressure units, temperature units, temperature vs. resistance (RTDs), and temperature vs. millivolt (thermocouples)
3.5 inch TFT color screen
Up to 30V voltage on any two sockets and up to 1A current on current sockets will not damage the calibrator. The calibrator will return to normal condition as soon as the voltage or current is removed.
Rechargeable Li-ion battery for 15 hours uninterrupted use. Battery life will be reduced when 24V is applied. The rechargeable battery is replaceable.
Warranty 3 years