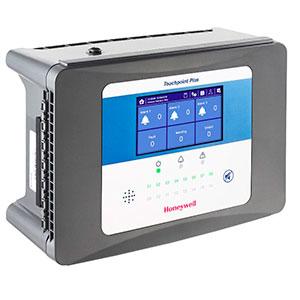 The Touchpoint Plus controller from Honeywell is an easily configurable, wall mounted control system that supports up to sixteen channels of gas detection. Its intuitive user interface and modular approach enables you to take control of your safety system and configure it to meet your needs for a wide range of applications.
Honyewell's Touchpoint Plus takes the user experience to the next level. With its unique user interface, operators are able to take control of their gas detection system, safe in the knowledge that their site and staff are protected and productivity is maintained.
It has been designed to work across multiple industries, Touchpoint Plus' modular architecture enables you to customise your system to meet your specific application requirements.
contact us for more information about the Touchpoint Plus Controller from Honeywell
Featuring:
Quick and easy setup and use

Intuitive touchscreen user interface

Traffic light style status at a glance

Ergonomic industrial design

Suited to a wide range of industries

Supports up to 16 channels of gas detection

Accepts 2 or 3 wire mA or mV inputs

Touchscreen LCD

Built-in powered alarm relays.
Large touchscreen LCD display
The Touchpoint Plus has built around its intuitive, ergonomic touchscreen and designed for ease. Operators are able to configure, operate and maintain their gas detection system simply and efficiently by simply touching the screen. The multilingual interface simplifies operation, reducing training requirements and costs. With real-time data presented in an easy to navigate menu system, and historical data can be downloaded to monitor developing threats.
Industrical design & system visibility
The Touchpoint Plus has been madade of high-impact polymer plastic, making it a versatile and durable unit. It is dust-proof, water-proof and has been tested to withstand the toughest environments in which our customers operate - indoors and out. Installation is made easy with the ability to be directly wall mounted, or for an easier 1-man installation of the Touchpoint Plus there is an optional mounting plate. Behind the hinged front cover there is plenty of space for wiring and a unique tiered terminal arrangement for easy access. Further reducing installation time and costs the cable entries have been pre-drilled and sealed ready to use.
Touchpoint Plus' full color traffic light style status indicators provide clarity from a distance allowing operators to see system status at-a-glance and make time critical decisions easily.