The Rhomberg PBG gauge is for heavy duty service where vibration or pulsation of medium would cause excessive wear on a dry gauge or where corrosive ambient conditions prevail. Specific application examples are:
PBG Features
Window

Extruded acrylic sheet

Seal

Neoprene

Case & Bezel

304 stainless steel

Dampening Fluid

Glycerine, silicon [options available]

[52mm available only D configuration]

Nominal Sizes

Socket

Brass or stainlees steel

Bourdon tube

Bronze or stainless steel

Movement

brass or stainless steel

Dial

Aluminium, white with black numerals

Pointer

aluminium, black anodised

Connections

1/8" + 1/4" [BSP - NPT - BSPT] Options 3/8" + 1/2"

Maximum Range

60Mpa [brass] 100 Mpa [Stainless steel]

Accuracy

1.6%FSD

Temperature Range

Ambient temperature: -25°C to 60°C

Note: minimum temperature should not be less or equal to the freezing point of the process fluid.

Higher temperatures can be accommodated with heat reducing devices.
PBG Pressure Gauge Configuration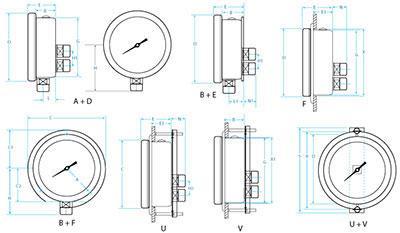 PBG Pressure Gauge
Normal Size

Dimensions [X is panel cut-out diamter]

A

B

C

C1

C2

D

E

E1

E3

E4

G

H

H1

L

L1

N

N1

O

R

S

X1