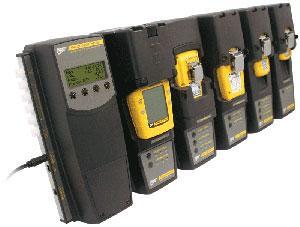 The Honeywell BW's MicroDock II has now been SUPERCEDED by the IntelliDoX
The MicoDock II was a cost effective way to manage the calibration and bump testing of compatible Honeywell BW portable gas detectors in this automated test and calibration system. It was fully portable and easily expandable, requiring no computer whilte providing simultaneous management of up to six modules.
It was suiteable for the following Honeywell gas monitors:
GasAlert Quattro

GasAlert Micro 5 Series

GasAlert Extreme
contact us for more information on the MicroDock II replacement the IntelliDoX by Honeywell.
The MicroDock II Featured
Fully automatic "hands free" calibration and functional bump testing

Automatically verifies performance of audible and visual alarms

Stores and updates calibration records in the MicroDock II, as well as in datalogging instruments

Entirely self contained with no computer required

Lightweight and fully portable with optional wall mount

Operates via 6V line power or a set of four 'C' cell batteries

Fully customisable

Add extra self-contained docking modules to system via simple plug-in connectors

No external pressure transducers or gas lines necessary

Simple, accurate record keeping and fleet management

Verifies proper performance of detectors

Reduces maintenance costs

Multiple MicroDock II systems can be connected via a LAN

Includes BW Fleet Manager software for easy data analysis

Multi-language support in English, French, German, Spanish and Portugues
Bump Check Your Gas Detector using MicroDock II
Calibrate Your Gas Detector using the MicroDock II