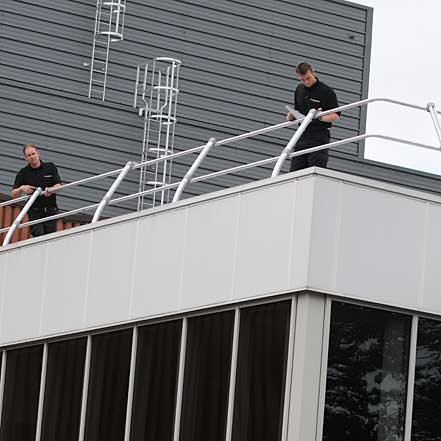 The VersiRail is a freestanding or fixed gaurdrail system that offers collective fall protection as well as being used for:
protection against falls

access protection

perimeter protection

marking out walkways
Latchways VersiRail is a practical solution providing collective fall protection.
contact us for more information about the range of Latchways Roof Safety Systems
The weight difference between VersiRail's aluminium components and the competing steel systems, ensures that VersiRail is a far more efficient system to install.
When comparing the time taken to move handrail tubes from ground to rooftop, one man is able to lift 18 m of VersiRail handrail at one time compared to only 3 m of the other handrails systems. The VersiRail is 5.6 times quicker to install compared to traditional steel systems.
Latchways VersiRail has been fully tested to EN 13374 at 2.5 m spacings for the freestanding system and to EN 14122-3 at 1.5 m spacings for the fixed system. The quality of material and finish on VersiRail is critical to its durability and does not require annual inspection.