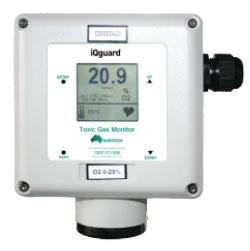 Gas Detectors for - Toxic gases, Oxygen Depletion & Flame Detection
The Austech iQguard series of gas detectors provide a high performance solution for a wide variety of industrial gas detection applications. It provides accurate, stable and repeatable gas detection measurements across a wide range of gas types.
contact us us for more information about the Austech iQguard or you can download a free pdf below.
Featuring:
Display or non-display models

Wide range of gas types

Stainless or moulded PVC enclosures

Swappable detector heads

Flexible configuration

Built-in relays

Modbus communications

Optional ethernet communications

Build in EMC RFI protection compliant to BS EN 50270

SIL2 compliant

Intrinsically Safe version available for Group II hazardous areas

Intrinsically Safe version Certification Ex ia IIC T4 Ga

IECEx certified

ATEX certified
Easy to Install
Compact and lightweight

Easy access connectors for installation of field wiring

Protected to IP66, allowing greater freedom of location

Wide input power supply range
Easy to Use
Large, backlit graphic display (display models)

Easy to navigate menu system with context based help system on display models

User interaction by noninvasive magnetic pen
Simple to Maintain
Simple sensor removal and replacement

On-board analysis function monitors sensor performance in display model
Housing Options for the iQguard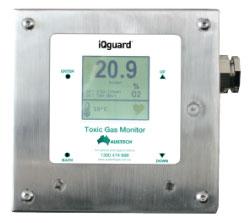 Plastic

Stainless Steel

Flameproof
Suitable Applications for the iQguard
Underground Car Parks

Loading Docks

Multi-Story Car Parks

Confined Spaces
The Austech iQguard carpark gas detectors are affordable, solid and robust devices designed for monitoring the level of toxic gases found in enclosed carpark and loading dock environments.
The iQguard carpark sensors are small light weight devices and easy to maintain and servcie. Operation is simple, and they are IP54 rated. Used in conjunction with a controller like the Micro 4000, the iQguard carpark sensors run with variable speed drives on exhaust fans to reduce excess power usage.
Measurement Technique

Electrochemcial

Measurement Technology

Long life electrochemcial cells with condition monitoring

Measurement Ranges

Configurable (contact us for detials)

Gas Types

Standard as per Sensor Table

+ 1.4% full scale at 25°C

Non display current loop 4-20mA

Display current loop 4 - 20 mA

Digital RS485 Modbus® communication

4 - 20 mA max. loop load 680 Ohms max. at 24 V

4 - 20 mA max. loop load 680 Ohms max. at 24 V

2 wire serial R5485 communications

Dual single pole change over relays

Energised under normal conditions (fail safe)

2-wire for basic unit without graphical display

136 x 136 x 73mm (plastic enclosure)

136 x 136 x 78mm (stainless steel enslosure)

Two wire Intrinsically Safe version in stainless steel enclosure only

BS EN 50270:2006 compliant (EMC)
| | | |
| --- | --- | --- |
| Ammonia | | Temperature -20°c to +40°c |
| Carbon Monoxide | | Temperature -20°c to +50°c |
| Chlorine | 5 ppm | Temperature -20°c to +50°c |
| Hydrogen Sulphide | 20 ppm | Temperature -20°c to +50°c |
| Nitric Oxide | 100 ppm | Temperature -20°c to +50°c |
| Nitrogen Dioxide | 20 ppm | Temperature -20°c to +50°c |
| Oxygen | 25% V/V | Temperature -20°c to +50°c |
| Sulphur Dioxide | 20 ppm | Temperature -20°c to +50°c |