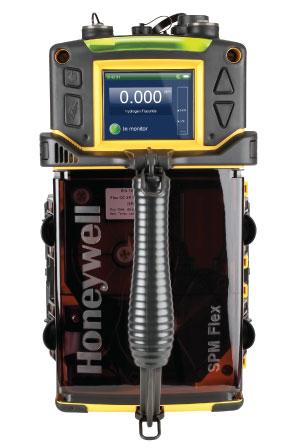 Tape-Based Gas Detector
The Honeywell SPM Flex gas detector for improving safety and productivity with the most flexible, user-friendly tape-based gas detector for low-level toxics.
The SPM Flex stands up to harsh conditions. Whether working in the sun and rain, around blasts of steam, or other challenging environmental conditions? The SPM Flex goes where you do, standing up to changes in temperature and humidity without compromising accuracy. It also works well in cleanrooms, thanks to its Teflon coating that doesn't attract dust. And if it's ever exposed to toxic gas or caustic liquid, just hose it down or use a decontamination wipe.
Featuring:
Flip screen

Duty cycle to reduce Chemcassette® usage

K-factor multiplier

Additional gas formulas
contact us for more information about the SPM Flex Chemcassette from Honeywell
Visible at a distance
With a clear crisp display and a color-coded LED bar on top of the SPM Flex, you can see the alarm status, gas concentration and any other data easily from a distance. A definite advantage for when you are not right next to your SPM Flex, meaning you will always know the health of your unit and the safety of your area.
Remote viewing through the web
Visibility also extends to other rooms and buildings, thanks to the unit's web capabilities. All you need to do is plug an Ethernet cable into the SPM Flex, and use the easy-to-read web interface to see the status of the unit - no matter where you are.
Emergency Response
The SPM Flex is the best tool for the job when responding quickly to an emergency. With fast startup, easy operation in hazmat gear and rugged design, the SPM Flex is ready when you are.
Life Safety
The SPM Flex, capable of working as both a fixed and a portable unit, is an important addition to your toxic gas monitoring system. Use it to investigate suspected leaks, or, if you have a monitoring point that's out of service, use the SPM Flex to replace it — with the option to plug it in or use the long-lasting battery.
Tool Maintenance
Suitable for when your crews need to perform maintenance on a process tool, they can take the SPM Flex with them to ensure safety while they work. With full data logging and an industry leading gas selection, you'll always have the assurance that your staff are safe every day, all day.
Easy to choose the target gas
Need to monitor a certain gas? Simply turn on the SPM Flex, snap in the proper Chemcassette® tape, and use the intuitive LCD menu to select the gas from the list. If there is a need to monitor for a gas in a different family? Just swap out the Chemcassette tape and choose the new gas. No ChemKeys™ required.
SPM Flex Documents for Downloading
DOWNLOAD PDF Brochure for the Honeywell SPM Flex
DOWNLOAD PDF Specification Sheet for the SPM Flex
DOWNLOAD PDF SPM Flex gases detected
DOWNLOAD PDF Quick Start Guide for Honeywell's SPM Flex