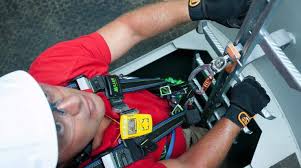 The Söll GlideLoc® from Miller by Honeywell is a safe vertical climbing system that is permanently installed on buildings, towers, masts, etc... providing hands free operation for productivity, safety and reduced fatigue. The easy-climb GlideLoc System offers hands-free safety at height that ultimately increases worker mobility, safety and productivity.
Kits are available in aluminium, galvanised or stainless steel construction with a wide range of components to suit various applications. The Fall protection ladders have an integrated guide rail for the guided-type fall arrester in the centre.
This easy to climb system has been engineered for smooth operation to ascend or descend. Söll GlideLoc® System is available in easy to order and install "do-it-yourself" kits.
Söll GlideLoc systems are available as ladders as well as guide rails

Available in aluminium, galvanized steel and stainless steel, either with or without side ladder spars (Y-rung or twin ladders).

Conforms to EN353-1 which meets the requirements of AS/NZS 1891.3 (ladders only).
contact us for more information about the range of Honeywell Roof Safety Systems
Ideal for:
Permanent Ladder Applications

Wind Power/Turbines

Telecommunications

Construction, buildings and facades

Utilities

Industrial Facilities / chimneys

Drilling Rigs/Platforms

Shipbuilding

Crane Installation

Confined Space

Loading bays