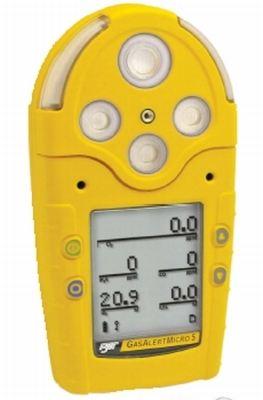 The GasAlert Micro 5 series from Honeywell BW™ provides protection from up to 5 potential atmospheric hazards including oxygen, combustibles and toxic gases, this portable gas detector is unmatched in its versatility. Continuously monitoring and displaying concentrations of up to five gases, the compact and lightweight GasAlertMicro 5 was designed and engineered with an extensive host of applications in mind.
Applications
Confined space entry

Waste water plants

Steel / iron production

Pulp and paper

Food and beverage

Construction
Additional Micro 5 Features
Integral concussion-proof boot

Optional integral motorized pump option for remote sampling

Powered by three AA alkaline batteries or a hot-swappable rechargeable battery pack

Triple alarms (audible, visual and vibrating)

Multi-language support in English, French, German, Spanish and Portuguese

Large, user selectable backlit LCD

Four alarm levels: Low, High, TWA and STEL

Compatible with MicroDock II Automatic Test and Calibration Station

Datalogging models store and recall event information

Wide range of user selectable field options including password protection, safe and stealth modes.

Full function self-test confirms sensor, battery and circuitry integrity and audible/visual alarms on activation
Gases detected
H2S

CO

O2

SO2

PH3

NH3

NO2

HCN

Cl2

ClO2

O3 and

combustibles (LEL)
The GasAlert Micro 5 PID and IR models are no longer available.