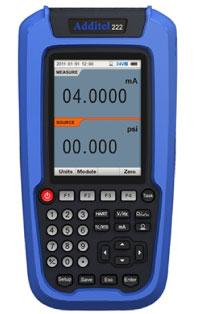 The Additel 222A Multifunction Process Calibrator takes all the functionality of the 221A and adds the ability to measure and source pressure using Additel's 160A Intelligent Pressure Modules.
With calibration characteristics programmed directly into the ADT160A pressure modules you can simply connect it to the 222A and it will automatically recognise and display the module as the source or measure pressure.
For ultimate convenience, one 222A allows for modules to be "hot swapped" with a simple connection at the top of the module.
Featuring:
Sourcing, simulating and measuring pressure, temperature and electrical signals

Smartphone-like menu and interface make the operation simpler

The internal cold junction compensation sensor can be re-calibrated at ice point by user

Ultra-compact, 3.9" x 7.6" x 2.0", and 1.6 lb (0.7 kg)
Specifications & Downloads