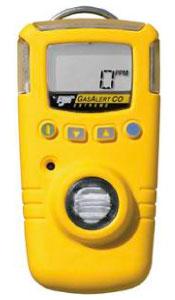 The BW Technologies by Honeywell GasAlert Extreme portable single gas detector has been designed with durability and comfort in mind, this gas detector monitors for any single gas hazard within its wide range of available toxic gas models.
Gases monitored - H2S, CO, O2, SO2, NH3, PH3, CI2, CIO2, NO, NO2, HCN, ETO and O3
The Extreme offers easy on/off operation and a simple automatic calibration with the compatible MicroDock II.
Featuring:
Tamper-proof settings with passcode protection

Continuous LCD shows real-time gas concentration

Compact and lightweight design makes it comfortable to wear

Water-resistant

Simple automatic calibration procedure

Compatible with BW MicroDock II automatic test and calibration station
contact us for more information about the Gas Alert Extreme Gas Detectors
The GasAlert Extreme a product of BW Technologies by Honeywell is a single gas detector offering real-time readings and extended longevity with a two year field-replaceable battery and sensor.
Single gas detection for CO, H2S, O2 SO2, NH3, PH3, CI2, ClO2, NO2, HCN, ETO, O3

Direct, real-time readings on large LCD with backlight in low light (auto or demand): in alarm (auto)

95 dB tone and bright LED alarm

Internal vibrating alarm

2-year battery life (typical) with replaceable 3V camera battery

Datalogging is now standard on all GasAlert Extreme detectors

Rugged and durable with built-in concussion-proof boot

Highly water resistant design with IP66/67 rating

Field-settable user options are tamper-proof with passcode protection

LOW, HIGH, STEL (short-term exposure limit) and TWA (time-weighted average) alarm

Peak value displayed on command (in ppm or % vol)

Visual, audible and vibrating alarms

Multi-language support in English, French, German, Spanish and Portuguese

MicroDock II compatible for easy calibration, test and record storage

Classified intrinsically safe by UL to US and Canadian standards, ATEX certified: IECEx scheme

Meter includes: stainless steel alligator clip test cap and hose, battery and instructions in various languages.
Size

2.8 x 5.0 x 9.5 cm

Weight

82 grams

Alarms

- visual, vibrating, audible [95dB]

- Low, High, STEL, TWA

Tests

Sensor integrity, circuitry, battery and audible / visual alarms on activation, battery [continuous]

Pump

Compatible with the Sample Motorised Pump

Typical Battery Life

1.5 year battery life [typical] with replaceable 3V battery

User Options

Confidence Beep

Automatic backlight

Latching alarms

User-settable calibration gas level

Stealth Mode

Passcode protection

Calibration past due lockout

Automatic O2 calibration

Five language choices

Ratings

EMi/FRI: Complies with EMC Directive 89/336/EEC

IP 66/67

Certifications & Approvals

Class I, Div. 1, Gr A, B, C, D

Class II, Div. 1 Gr E, F, G

American Bureau of Shipping

IECEx: EX ia IIC T4

ATEX: CE Ex II 1 G T4 / Ex ia IIC T4

CE: European Conformity

Warranty

Full Two year warranty including sensors [One year warranty for NH3, CI2, O3, ETO, CIO2 sensors]
Gas

Measuring Range (ppm)

Operating Temperature

CO

0 - 1000

-30 to + 50°c

15% - 90%

CO (low H2)

0 - 1000

-30 to + 50°c

15% - 90%

O2 (% by vol)

0 - 30.0%

-20 to + 50°c

0% 99%

H2S

0 - 100

-40 to + 50°c

15% - 90%

H

2

S (high range)

0 - 500

-40 to + 50°c

15% - 90%

SO

2

0 - 100.0

-40 to + 50°c

15% - 90%

HCN

0 - 30.0

-40 to + 50°c

15% - 90%

NH3

0 - 100

-20 to + 50°c

15% - 90%

NH3 (high range)

0 - 400

-20 to + 50°c

15% - 90%

CI2

0 - 50.0

-20 to + 50°c

15% - 90%

NO

0 - 250

-20 to + 50°c

15% - 90%

NO2

0 - 100

-20 to + 50°c

15% - 90%

PH3

0 - 5.0

-20 to + 50°c

15% - 90%

ETO

0 - 100.0

-20 to + 50°c

15% - 90%

CIO2

0 - 1.0

-20 to + 50°c

15% - 90%

O3

0 - 1.0

-20 to + 50°c

15% - 90%
Alarm setpoints for all sensors are user adjustable.
Setpoints are automatically displayed during instrument start-up.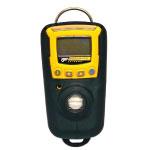 Concussion Proof Boot
Heavy duty protection for extreme conditions. The concussion-proof boot slips easily and securely onto the detector for additional protection in extreme conditions. Equipped with a rugged stainless steel alligator clip, the external rubber boot also helps keep the detector clean.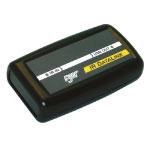 IR Data Link
With the IR DataLink USB adaptor and IR DataLink software (included) by BW Technologies, a user can easily download event log information from the GasAlertClip Extreme gas monitors or download data log information from the GasAlert Extreme (data logging model only).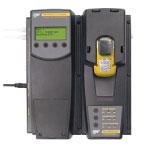 Calibration Dock
The most cost effective way to manage the calibration and bump testing of BW's portable gas detectors is through the MicroDock II automated test and calibration system. Fully portable and easily expandable, the MicroDock II requires no computer and provides simultaneous management of up to six modules.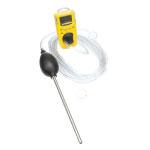 Manual Pump Kit
Manual Aspirator Pump Kit w/ Probe 1ft suitable for GasAlert Extreme and GasAlert Micro 5.
COMING SOON