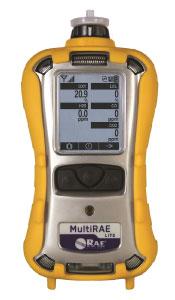 The MultiRAE Lite from RAE Systems by Honeywell multi-gas detector provides versatile, customisable detection and monitoring of up to six gases. Available in both pumped and diffused air models.
With more than 25 sensors to choose from — the broadest selection in its class — it can test for VOCs, combustibles, and a range of toxic threats, as well as monitor sufficient oxygen levels, making it an excellent choice for personal protection and leak detection in a range of industries and applications.
The MultiRAE's opitonal wireless connection sends threat and alarm data in real time to a central command, providing superior awareness for fast incident response.
With replaceable sensors, alarm, and battery, a large screen, and automated bump testing and calibration the MultiRAE Lite is easy to use and maintain.
Multi gas detector VOC / PID / LEL / H2S / CO / O2 / CO2 / SO2
Featuring:
Multi-gas monitor for 1-6 gases

Pumped and diffusion models available

Man down alarm

More than 25 different chemical sensors

Fully automatic bump testing and calibration

Real-time access to readings at central command

Swap out sensors as needed
contact us for more information about the MultiRAE Lite Pumped Portable Gas Detectors