According to Canstar, Australia has one of the highest rates of pet ownership in the world (62% in 2017(1)) so it is little wonder that we want to take them with us where ever we go, including the workplace.
The US and UK are also known for a high rate of pet ownership with most if not all pubs in the UK catering for dogs with water bowls by the fire. And let's not forget the photos of American celebrities with their fur babies being toted around on shopping trips and even the odd red carpet!
More recently the Sydney airport introduced bathroom facilities for canines in the T1 Terminal(2) as part of their broader commitment to providing accessibility across the airport and dog water bowls are making their way into 'dog friendly' cafes where the dog is allowed in designated areas.
This all leads us to …. Dogs in the workplace.
In Australia the term 'working dog' has long been linked to farming and the dog in the back of the tradie's ute that would go with it's human to construction sites. We now consider dogs in the workplace to also be deemed working dogs.
Aegis Sales & Service permitted its first workplace dog when in 2010 a little Maltese / Bischon Friese cross named Gibbs joined the Aegis family. Gibbs would visit on groom day and with his ball & wagging tail, he would visit most desks within the office.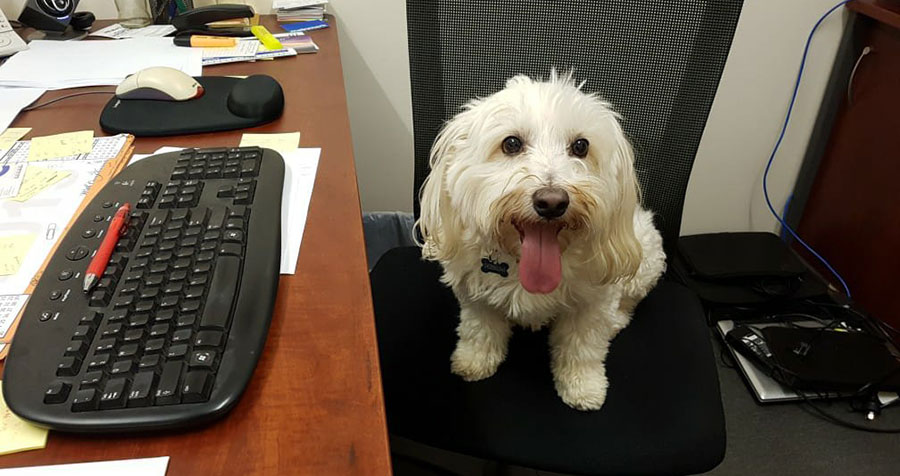 We can't dispute the research carried out about the benefit of interacting with our four-legged friends, they visit hospitals, retirement homes as well as the importance of an assistance dog for companionship and disability support.
5 Benefits of having dogs in the workplace
Lower Stress Levels

Improved Morale

Productivity Boost

Encourages Employee Interaction & Collaboration

Improved Mental & Physical Health
Over the year's employees have bought their fur babies (and 1 scaly reptile) in for a sneaky visit when on a day off. This has always bought lots of joy and laughter, especially when they have been puppies.
An Aegis Sales & Service supported charity since 2015 is the RSPCA Cup Cake Day that always has a mascot around to help promote sales of our yummy home-made cupcakes.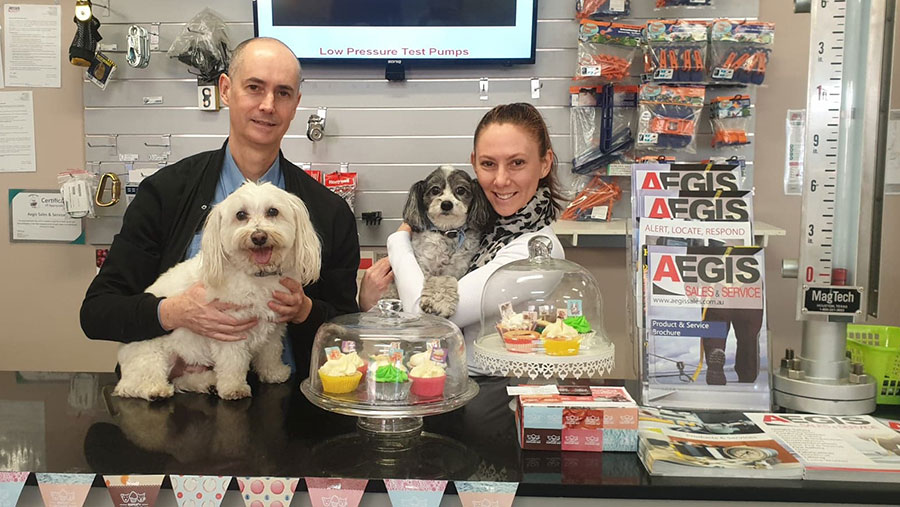 Logan became a more permanent fixture a couple of years ago when his two-legged dad started work at Aegis, what started as one or two days here and there quickly became 5 days a week with his own uniform.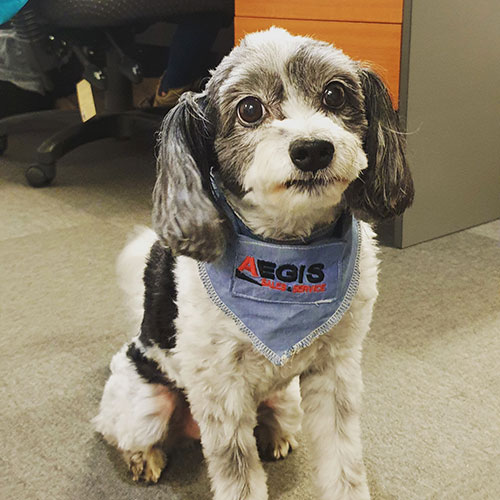 Things to consider when allowing a dog in the workplace:
Not all dogs are suited to being in the workplace – loud barking, size (like a certain Great Dane/Irish Wolfhound cross we know!), escape artists, aggressive

Does the dog have updated vaccination?

Obedience and house training / toilet habits

Is your workplace suitable for a furry friend?

What are the benefits to both human and four-legged?
And then there are the more boring albeit necessary considerations like:
Adopting a Pet Policy in the Workplace including surveying employees to see how they really feel about a pet-friendly policy

Legal, Safety, Health and Liability issues of a pet in the workplace

Suitability to bring a pet ie: bringing a pet into the workplace for external staff is not practical when they are not in the office for their full shift

Quantity of dogs at any one time in the office, do you need a doggy roster?
In January 2020, Scarlett the Dachshund joined the Aegis family with the newly created title of 'Junior Morale Officer'.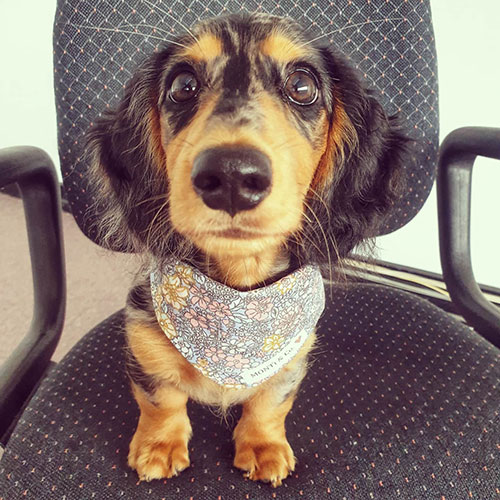 You can follow Scarlett on Instagram @scarlett_minidoxie (she has quite the following)
Other workplaces that allow dogs
Some well known Australian and International companies that have a Pet Policy and have recognised the benefits of allowing a dog or dogs in the workplace are:
Amazon

AirBnB

Cottonon

Google Sydney

Marmalade

MySale Group

Petcloud

Style Magazine

Ticketmaster

Uber

Vinomofo

World for Pets
The Amazon Headquarters in Seattle USA, have an on-campus dog park, doggie deck on the 17th floor, complimentary poop bags and treats for its registered 6,000(3) dogs.