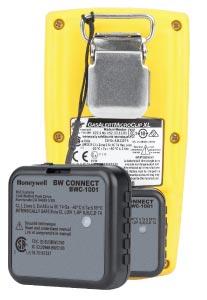 Transform your Gas Detector into Wireless Monitoring
The NEW Honeywell BW™ Connect, enable you to instantly transform your dependable BW gas detectors into wireless gas monitoring devices. This adapter can be easily and quickly to your current detectors allowing ito to be paired with any available smartphone via Bluetooth®.
It is an easy-to-use, cost-effective addition, compatible with the Honeywell Safety Communicator App, Honeywell BW Connect grants real-time visibility of your workers' safety status.
contact us for more information about the Honeywell BW™ Connect
Compatible Honeywell Portable Gas Detectors: BW™ MicroClip XL, Honeywell BW™ MicroClip X3, Honeywell BW™ Max XT II